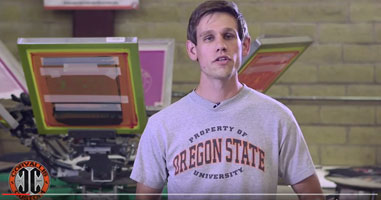 All About Digital Printing
We often hear customers are concerned with the setup fees associated with screen printing, or they are only looking into a single one-off t-shirt. Digital printing is more cost-effective when you're doing between one and 12 shirts, because there are no setup fees or additional costs per color, so digital printing is perfect for proofing or short runs because the set up time as low as is the cost of labor.

Now it's also great for photo printing, and just as we can do a screen printing we can print a multitude of locations. We can print on the sleeves, chest, just across the bottom, down up the side… anywhere you need, and we can do it on almost all 3000 apparel items were have here in inventory.

So when is digital printing not appropriate? Because were applying the material to your apparel at over 300°, digital printing does not work well on spandex or dry fit materials as it might cause the apparel to melt. It also does not work well on waterproof items such as ski pants or motorcycle jacket. So with those minimal exceptions, digital printing is an awesome opportunity to get custom apparel with no minimums, color restrictions, or set up fees.
For more information check out Digital Printing.