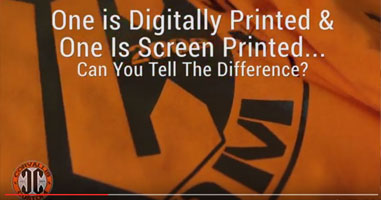 Digital Printing, Screen Printing, and Embroidery
Custom apparel is often a daunting task for customers, but with Corvallis Custom it doesn't have to be. At Corvallis Custom, we offer three types of apparel printing: digital, screen, and embroidery.

Digital printing is the best option for short-run orders. Generally short-run orders consist of about 12 or less items. Digital printing is the most cost-effective way to customize apparel, and the prints are just as vibrant as screen printing, with no setup charges or screen fees. Digital prints are produced on a large-format, solvent-based printer and then fused into the garment over 300°

Screen printing is a great option when you would want to print more than 12 items. This traditional option uses individual screens for each design and color. Plastisol inks are then pressed through the color template and onto the apparel. Screen prints are durable, last for years, and can be produced in large quantities easily and inexpensively.

Embroidery is the Cadillac of custom apparel, and if you are customizing one or thousand items, embroidery is sure to set you apart. This process converts each color and design into stitching. The design is woven into the apparel fabric.
For more information about each of these printing options, check out our Apparel section